Tape hair extension at a glance
Welcome to the category "Hair Extensions with Tape Extensions"! Here you will find everything you need to know about this method of hair extension. Tape extensions are a great way to achieve long and full hair without having to wait long for your own hair to grow. In this category you will find instructions and tips on how to safely and effectively incorporate and remove the tape extensions for the best result. With Tape Extensions you have the freedom to add volume and length to your hair and change your look whenever you want. Here you will find all the information you need to find the perfect tape extensions and achieve a beautiful, voluminous hair. We will show you how to properly take care of your tape extensions so that they last a long time and you can enjoy them.
---
Prices hair extension with bondings
Here you will find an overview of our various tape extensions services. To learn more about the services and prices, you can simply click on the buttons or click on the images of the respective options. We hope we can help you find the perfect tape extensions hair extension for you.
FAQ about Tape Extensions
What are tape extensions?
Tape extensions are a type of hair extension in which thin strips of human hair are attached to small sections of your natural hair with an adhesive tape.
How long do tape extensions last?
The durability of tape extensions depends on several factors, such as the quality of the hair used, the type of tape, and the care you give your hair. However, tape extensions can usually last between 6 and 8 weeks.
How are tape extensions attached?
Tape extensions are applied by a professional hairdresser. The hairdresser separates a small section of the natural hair and then sticks the tape of the tape extension to the hair. After that, a second tape extension is glued to the top of the first tape to form a sandwich strand. This process is then repeated until all desired strands are attached.
How are tape extensions removed?
Tape extensions are usually removed with a special solvent that dissolves the tape. The hairdresser will carefully separate the strands and apply the solvent to remove the tape. After that, the hair is shampooed and combed to remove all residue.
Are there any risks when using tape extensions?
As with all types of hair extensions, there are also some risks involved in using tape extensions. These include hair breakage, hair loss, headaches, itching and irritation of the scalp. It is important that you seek advice from a professional hairdresser and ensure that you maintain the extensions properly to minimise these risks.
How much does a tape extension hair extension cost?
The cost of a tape extension depends on various factors, such as the number of strands, the length and quality of the hair used. As a rule, you can expect costs between 150 and 1000 euros.
---
Experiences of our customers
Here you will find feedback from our satisfied customers who have tried our Bonding Extensions. We believe that our customers' experiences are the best indicators of how good our products and services actually are. That's why we've collected their opinions and are proud to share them with you. In this section you will find reviews from people who have used our Bonding Extensions and can help you make an informed decision before deciding to buy or service from us. We pride ourselves on providing you with a positive experience and look forward to satisfying you too with our hair extension services.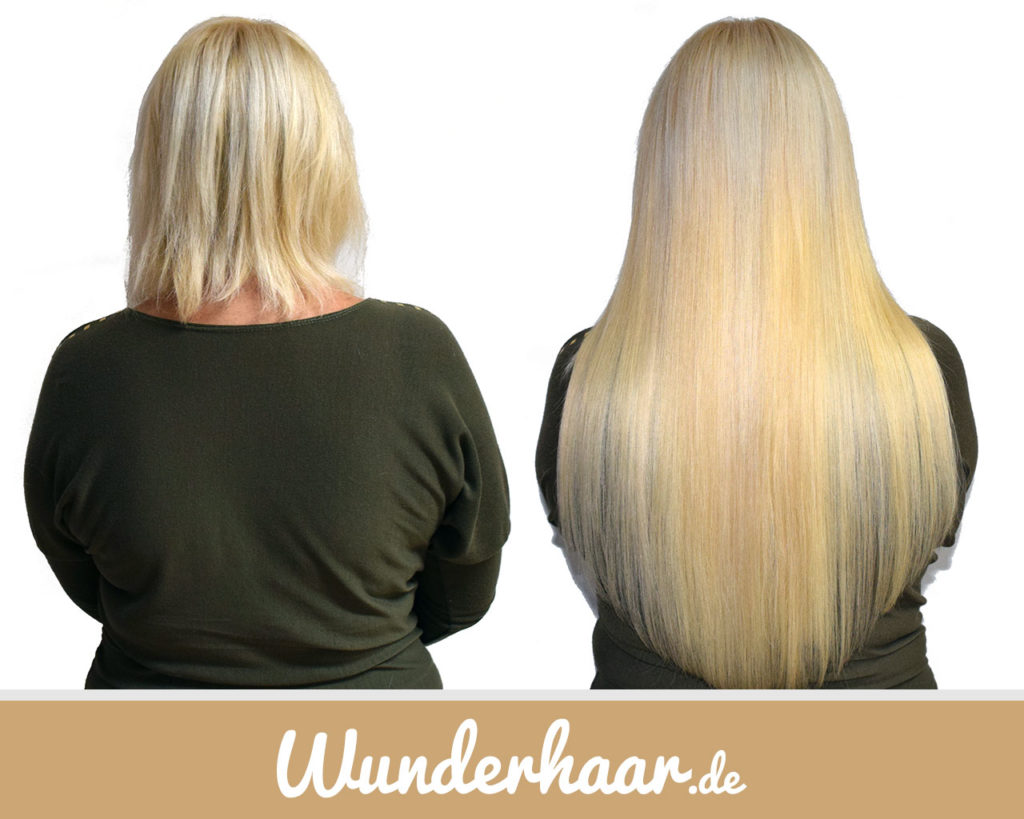 Convincing result – I'm really happy about my new look. I never thought that a hair extension could be applied so easily and without any problems. I also get along well with the strands in everyday life – they are easy to care for and don't look like extensions at all. Thank you!

Katrin B.