Tape hair extension at a glance
Welcome to the category "Hair Extensions with Tape Extensions"! Here you will find everything you need to know about this method of hair extension. Tape extensions are a great way to achieve long and full hair without having to wait long for your own hair to grow. In this category you will find instructions and tips on how to safely and effectively incorporate and remove the tape extensions for the best result. With Tape Extensions you have the freedom to add volume and length to your hair and change your look whenever you want. Here you will find all the information you need to find the perfect tape extensions and achieve a beautiful, voluminous hair. We will show you how to properly take care of your tape extensions so that they last a long time and you can enjoy them.
---
Prices hair extension with bondings
Here you will find an overview of our various tape extensions services. To learn more about the services and prices, you can simply click on the buttons or click on the images of the respective options. We hope we can help you find the perfect tape extensions hair extension for you.
FAQ zum Thema Tape Extensions
Was sind Tape-Extensions?
Tape-Extensions sind eine Art von Haarverlängerung, bei der dünne Streifen von menschlichem Haar mit einem Klebeband an kleinen Abschnitten Ihres natürlichen Haares befestigt werden.
Wie lange halten Tape-Extensions?
Die Haltbarkeit von Tape-Extensions hängt von verschiedenen Faktoren ab, wie der Qualität des verwendeten Haares, der Art des Klebebands und der Pflege, die Sie Ihrem Haar geben. In der Regel können Tape-Extensions jedoch zwischen 6 und 8 Wochen halten.
Wie werden Tape-Extensions angebracht?
Tape-Extensions werden durch einen professionellen Friseur angebracht. Der Friseur trennt eine kleine Sektion des natürlichen Haares ab und klebt dann das Klebeband der Tape-Extension an das Haar. Danach wird eine zweite Tape-Extension auf die Oberseite des ersten Klebebands geklebt, um eine Sandwich-Strähne zu bilden. Dieser Vorgang wird dann wiederholt, bis alle gewünschten Strähnen angebracht sind.
Wie werden Tape-Extensions entfernt?
Tape-Extensions werden normalerweise mit einem speziellen Lösungsmittel entfernt, das das Klebeband auflöst. Der Friseur wird die Strähnen vorsichtig abtrennen und das Lösungsmittel auftragen, um das Klebeband zu entfernen. Danach wird das Haar shampooniert und gekämmt, um alle Rückstände zu entfernen.
Gibt es Risiken bei der Verwendung von Tape-Extensions?
Wie bei allen Arten von Haarverlängerungen gibt es auch bei der Verwendung von Tape-Extensions einige Risiken. Dazu gehören Haarbruch, Haarausfall, Kopfschmerzen, Juckreiz und Reizungen der Kopfhaut. Es ist wichtig, dass Sie sich von einem professionellen Friseur beraten lassen und sicherstellen, dass Sie die Verlängerungen ordnungsgemäß pflegen, um diese Risiken zu minimieren.
Wie viel kostet eine Tape-Extension Haarverlängerung?
Die Kosten für eine Tape-Extension hängen von verschiedenen Faktoren ab, wie der Anzahl der Strähnen, der Länge und der Qualität des verwendeten Haares. In der Regel können Sie mit Kosten zwischen 150 und 1000 Euro rechnen.
---
Experiences of our customers
Here you will find feedback from our satisfied customers who have tried our Bonding Extensions. We believe that our customers' experiences are the best indicators of how good our products and services actually are. That's why we've collected their opinions and are proud to share them with you. In this section you will find reviews from people who have used our Bonding Extensions and can help you make an informed decision before deciding to buy or service from us. We pride ourselves on providing you with a positive experience and look forward to satisfying you too with our hair extension services.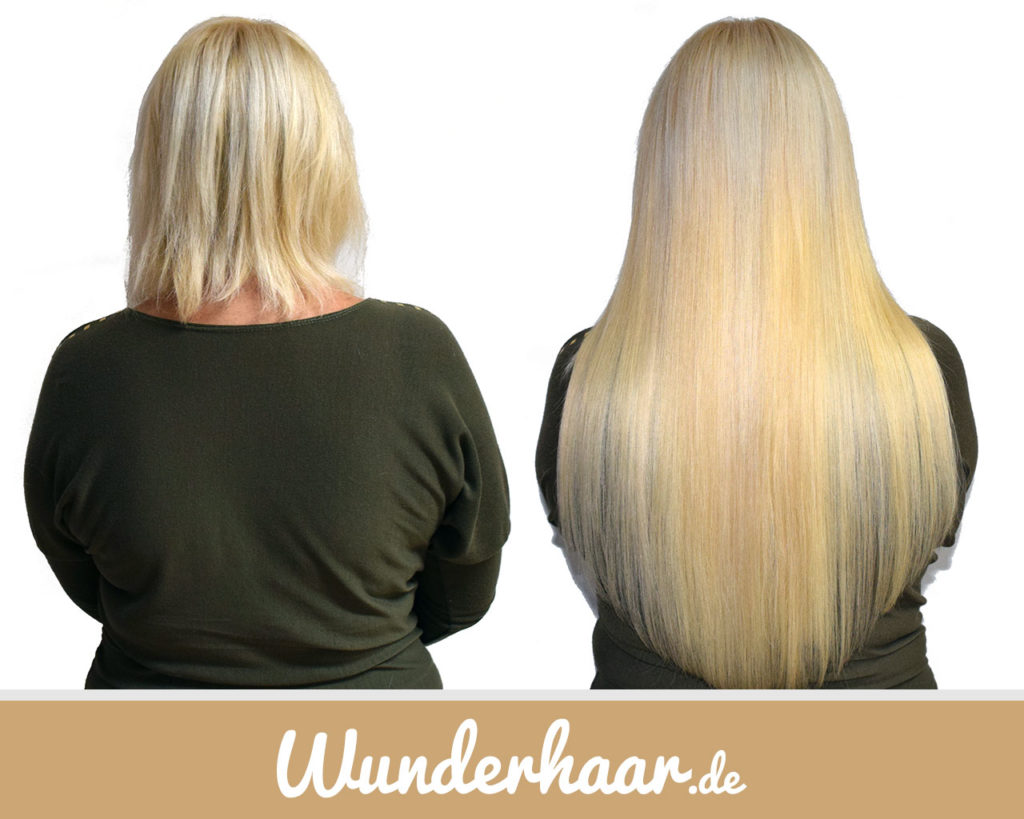 Convincing result – I'm really happy about my new look. I never thought that a hair extension could be applied so easily and without any problems. I also get along well with the strands in everyday life – they are easy to care for and don't look like extensions at all. Thank you!

Katrin B.